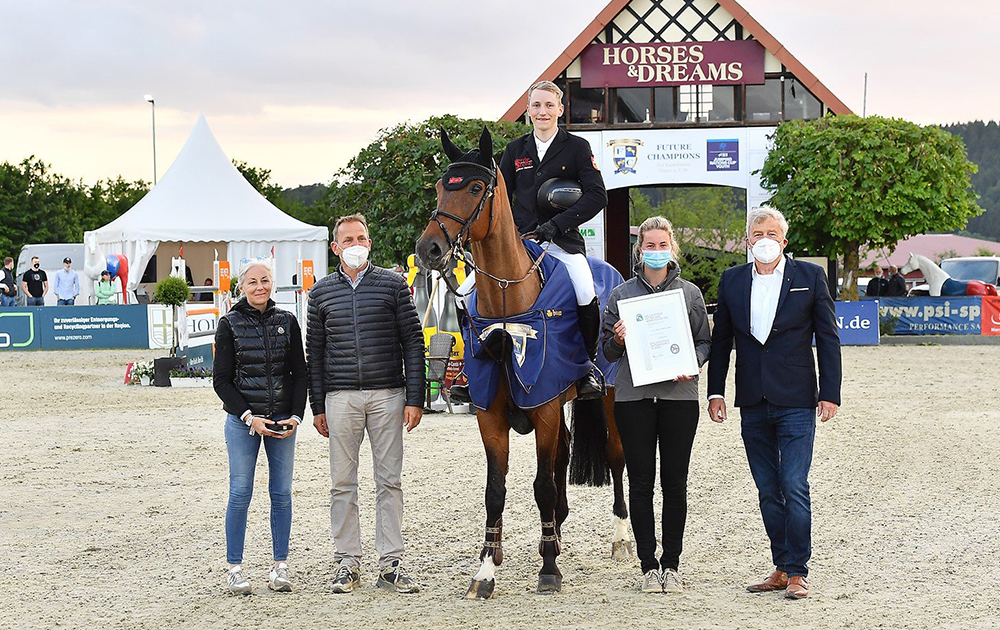 13 Jun

Gold for Ireland and Germany in the Nations Cup for Juniors and Young Riders

Hagen a.T.W. — Saturday afternoon and evening once again proved to be really exciting with the Nations Cups for Junior and Young Riders. In the Prize of the BEMER Int. AG, CSIO-J Nations Cup, Ireland won ahead of Poland, Germany and France. The team under trainer James Kernan: Max Wachmann with Brooklyn de Hus, Caragh Charlton on Galina, John Mcentee with Hip Girl and Tom Wachman on Atlantic du Seigneur finished the course of Klaus Holle and Olaf Herrmann with only five penalty points. Only one penalty point separated silver from bronze, with Polish juniors Aleksander Lewandowski on Jazzmir van het Halderthof, Iga Biegalska in the saddle of Doravella, Olga Skrobacz with Quincy and Daria Pietrzak on Monsun on a total of eight penalties and Germany on nine.

In the CSIO-J Nations Cup, Prize of Jaguar Land Rover Deutschland GmbH, however, Peter Teeuwen's German Young Rider Team was on top. Sönke Fallenberg (Chakira Tf Nrw), Max Haunhorst (Chaccara), Emilia Löser (Lesodero) and Henrike Ostermann (Air Force One) produced two solid rounds and took gold ahead of the Netherlands and Ireland, who finished tied on nine penalties.

In the Prize of the BEMER Int. AG, a speed competition over 1.40 metres for U18 riders, Uzbek rider Abdurakhmon Abdullaev confirmed his consistent form of the last few days and claimed victory with Go Four It B ahead of Lara-Marie Juraske from Germany in the saddle of Just Cute B and the Dutch rider Senna Everse with Grodino.

It was a home town victory in the U21 event, the Prize of Jaguar Land Rover Deutschland GmbH. Matthis Westendarp (Wallenhorst) and his top horse Stalido won the speed competition over 1.45 metres ahead of Henning Athens on Tenterhof's Cantuccini and Paul Ripploh with Ride Smart Chevalier de Blue. Westendarp had two reasons to celebrate — he also received his Golden Riding Badge following the win. The location and time could not have been better chosen. Family, team and trainer Andreas Kreuzer were all present in the floodlit jumping stadium to congratulate him on his achievements.

German Jaguar Land Rover GmbH Marketing Manager, Karina Kärcher, expressed her happiness to be back at Future Champions: "The promotion of young talent is especially important to us. After such a long enforced Corona break, we are happy to be back. The positive atmosphere and team spirit among the young athletes is very special. " Due to its rare versatality, the product portrays an ideal partner for the equestrian sport.
Dressage
In the Prize of the Liselott & Klaus Rheinberger Foundation CDIO-J Freestyle, Danish rider Alexander Yde Helgstrand won with his Danish-bred mare Grevens Sa VA on 77.275%. Places two to four went to German juniors: second was Jana Lang with Baron (76.325%) followed by Lucie-Anouk Baumgürtel with Zinq Hugo FH (75.292%) and Rose Oatley with Rock Revolution (74.350%).
The CDIO-P of the pony riders, Prize of Performance Sales International GmbH, was the final event. After the great result in the team competition, riders from Germany were also on the podium today. Antonia Roth and the chestnut stallion Daily Pleasure WE claimed the win with 77.568% ahead of second placed Julie Sofie Schmitz-Heinen on Carleo Go. Third place went to Sophia Boje Obel Jørgensen (DEN) with Adriano B.
All results can be found here, https://online.equipe.com/de/competitions/41136. If you have any further questions, please contact hd@psi-sporthorses.de.
Photo: Matthis Westendarp with Stalido © Photo Rüchel