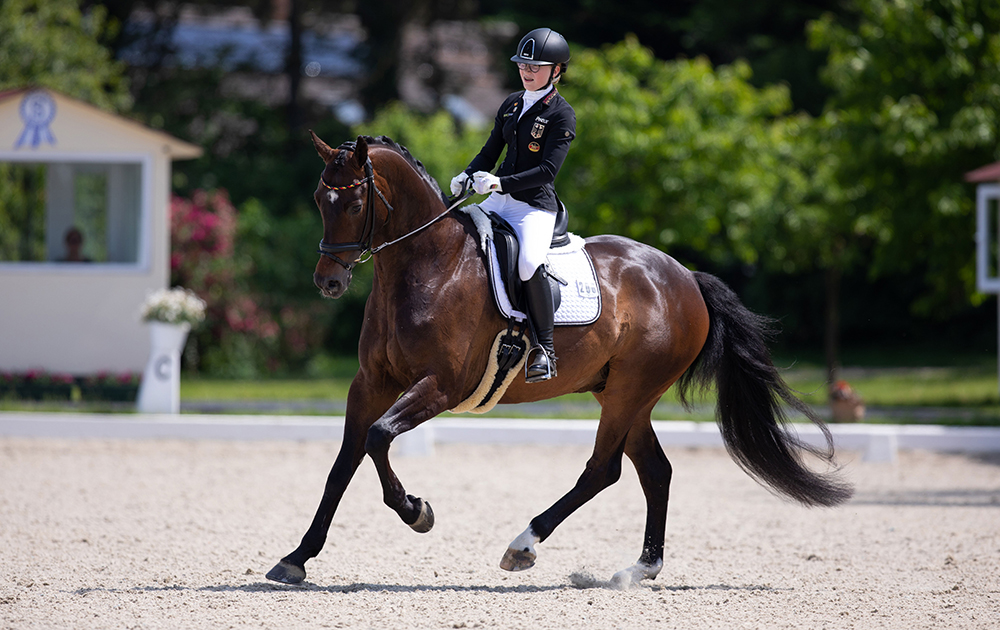 13 Jun

German Children Riders on Top

Hagen a.T.W. — The penultimate day of Future Champions 2021 began with two more Grand Prix in the jumping stadium. First on the programme was the Prize of OSNATruck Nutzfahrzeuge GmbH, CSIO-Ch Grand Prix over 1.30 metres. Just like with their grown-up role models of the sport, there was of course a jump-off for the U14 riders. Naomi Himmelreich won with Cornet's Adel after two clear rounds in the fastest time of 33.43 seconds. She relegated two other German riders, Paula Pahl with Easy Kolibra MO and Lennard Tillmann with Oreal des Etains Z, to second and third place.

Afterwards, the pony riders met for their Grand Prix in the Prize of FRONERI Deutschland GmbH. Here victory went to Lola Brionne (FRA) with Clementine. Katie Mcentee (IRL) came second with Valmy de Treille ahead of Logan Fiechter (NED) with Minerva For Play and Milan Morssinkhof (NED) on Carrick. Only the first four combinations managed a clear jump-off.
Dressage
On the other side of the expansive showground at the Borgberg, music and choreography were in the fore today. In the first individual and team decisions in the freestyle, the juniors and young riders once again showed all their skills.
Already in the morning the juniors had their CDI-J Freestyle, Prize of Ascot Equestrian Products. Here Shona Benner and Brisbane confirmed their top form of the previous days and took first place with 77.209% ahead of Jana Lang and Davy Jones, who received 75.292% for their performance. In third place with 74.209% was the Danish pair Laura Gotteberg Brandt Jakobsen and Romio Hoejris.
The Children (riders between 12 and 14 years) rode their final in the afternoon in an individual test. In this prize of the LVM Versicherung Clara Paschertz won with Danubio OLD (81,269%) ahead of Martha Raupach with Jack Sparrow (77,542%) and Johana Vasaryova from Russia with Firestone (77,260%).
One dressage arena across, the young riders danced to their freestyle music in the Prize of Poggemann GmbH. Here, too, the Germans were able to prevail once again. Anna Middelberg secured the golden ribbon on Blickfang HC with 77.592%. Finally, there was a neck-and-neck race for the silver ribbon. Here Helen Erbe with Serano received 75.392% and was only just 0.1% ahead of third-placed Emely van Loon with Fbw Despereaux.
Even though the award ceremonies could not take place in the usual manner, the first three place winners were still cheered by their fellow competitors.
You can find all the results here, https://online.equipe.com/de/competitions/41136.
If you have any further questions, please contact hd@psi-sporthorses.de.
Photo: Clara Paschertz with Danubio OLD © Sina Kuiper