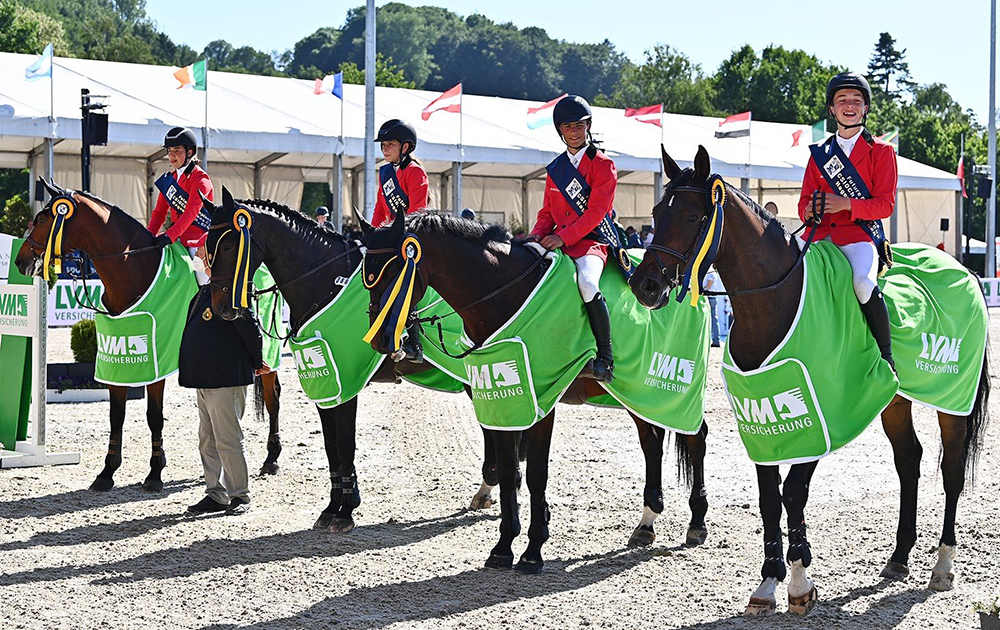 13 Jun

22 Nations, One Community: Future Champion celebrates successful Comeback

Hagen a.T.W – The last day of Future Champions 2021 began with another Nations Cup. The ponies and young athletes showed full potential in the CSIOP Nations Cup, sponsored by Zeltbau Kortkamp. Team France was unbeatable, being the first team this weekend to finish both rounds with no penalty points. Under careful instruction by Chef d´Equipe Olivier Bost, Lola Brionne, Anna Szarzewski, Nohlan Vallat, and Jeanne Hirel navigated a very challenging course. With 22 total penalties the Swedish team, made up of Ophelia Jenderholt, Tilda Sandstedt, Alicia Svensson und Selma Staffare, under Chef d´Equipe Sofia Bengtsberg, took home the silver medal. Hot on their heels was the Irish team, consisting of trainer Gary Marshall, Eoin Brennan, Marta Hughes-Bravo, Chloe Hughes Kennedy and Katie Mcentee.

Yari van den Branden (BEL) and her mount Picobelle collected the gold medal in the individual round, being the only rider to go clear. David Gorton-Hülgerth (AUT) with Florian and Jonna Esser (GER) on Bente secured the second and third placings with the fastest four fault rounds.

The children  riders competed in the CSIOCh Nations Cup, Prize of LVM Versicherung. With a total of nine nations up for the title, Belgium ended up taking the lead just ahead of Ireland in a fearless jump-off. Under the guidance of Chef d´Equipe Jean-Jacques Mathys rode Yari van den Branden, Estelle Gerard, Julie Lamberts and Seppe Wouters. Emily Moloney, Kian Dore, Chloe Hughes Kennedy and Katie Nallon with their coach James Kernan made up the Irish team. The third place was a tie between the Netherlands, represented by Yoni van Santvoort, Daan Adams, Britt Schaper and Jersey Kuijpers under Edwin Hoogenraat, and Germany, represented by Paula Pahl, Fabio Thielen, Tony Stormanns, Naomi Himmelreich and their trainer Eberhard Seemann.
Dressage
The last event for the Young Riders was today's Freestyle. In the Liselott und Klaus Rheinberger-Stiftung Prize and special award by the Bechtolsheimer Family, Luca Sophia Collin (GER) and Descolari received the top score. With 77.908% she claimed gold over Sara Aagaard Hyrm (DEN) and Skovborgs Romadinov (77,842%), and Helena Schmitz-Morkramer (GER) with DSP Lifestyle (75,992%).
The pony riders also enjoyed a last dance in the freestyle today. In the Liselott und Klaus Rheinberger-Stiftung Prize, the scores came very close between the three podium riders. Ultimately, Antonia Roth and Daily Pleasure WE secured first place with 81.5%. Just behind her were Sophia Boje Obel Jorgensen (DEN) on Adriano B (81,25%) and Julie Sofie Schmitz-Heinen with Carleo GO (80,75%).
Future Champions embodies the everlasting camaraderie and unison of the equestrian world. Despite the absence of an audience – trainers, parents and teammates created a strong sense of community.
Francois Kasselmann reported, "It was a fantastic weekend of top level sport. Especially the Welcome Night gave me goosebumps, when the young athletes presented their teams and wished each other the best of luck for the upcoming competition. It truly showed how much we all missed embracing the sport together."
Due to the cancellation of Future Champions 2020, this year's event once again provided riders with the chance to prove themselves, qualify for championships, and further develop their young careers in the saddle.
US Chef d´Equipe George Washington Williams and his team celebrated bronze medal win in the CDIO Young Rider tour, "Even without a (corona) break, it is a tremendous opportunity for the young riders to represent their country, not only at an international competition but on another continent. It is a pleasure to be here once again!"
Ullrich Kasselman rightfully said, "We all talk about giving the seniors starting opportunities to prepare for Tokyo and the 2021 European Championships, but we must not forget the young generation. These are our Olympians, World and European Champions and Nations Cup riders of tomorrow and in our sport every international experience is literally worth its weight in gold. I'm delighted to see the impressive performance standard and good camaraderie between the young riders, the future of equestrian sport is in good hands."
The whole team here at Future Champions is looking forward to see the stars of tomorrow back in Hagen am Teutoburger Wald in 2022.
Photo: CSIOCh Winners, Team Belgium © Foto Rüchel