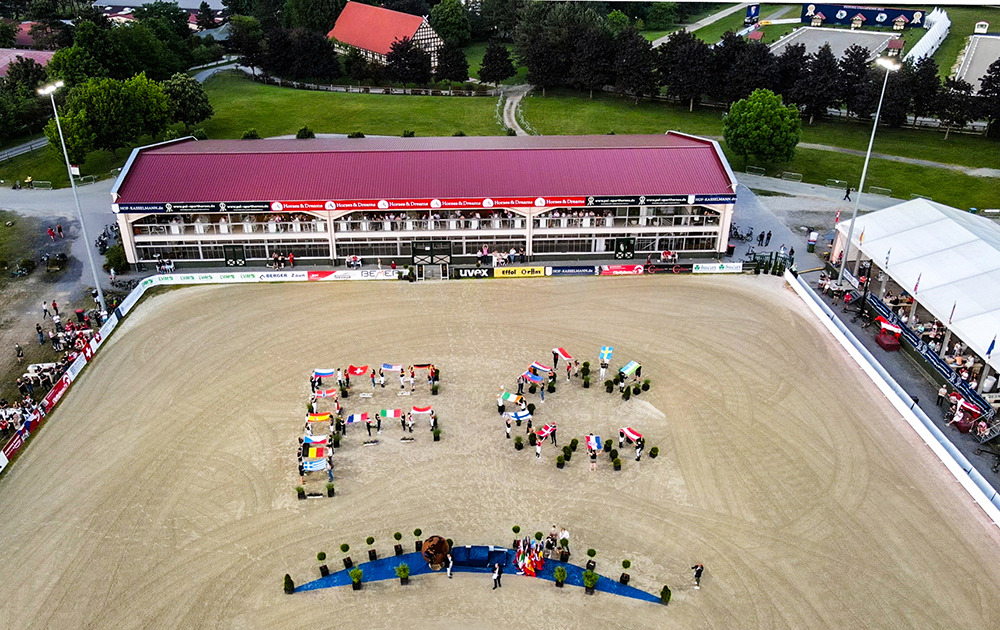 12 Jun

Future Champions 2021 — Home of the Nations Cups

Hagen a.T.W. — More than 400 riders from 22 nations, eight nations cups and international level show jumping and dressage. These numbers can only mean one event, "Future Champions" at Hof Kasselmann in Hagen am Teutoburger Wald. Here, the focus is on the next generation of riders. The Nations Cups in show jumping and dressage are held in the age groups Pony, Children, Juniors and Young Riders.

The famous welcome evening of all nations could unfortunately not take place in the usual tradition this year. Only two riders of each nation were allowed to represent their teams on Thursday evening on stage. Where usually numerous spectators cheer for the teams, now just their teammates lined the jumping stadium due to corona restrictions.
Organiser Ullrich Kasselmann is proud that Future Champions is back this year with great international participation, "The young people are incredibly happy to be here, especially after the long Corona break and the travel bans. There is a great community amongst the riders, that is always evident at Future Champions. I'd like to thank our sponsors and my team for making it possible for us to put on a Corona-safe event with more than 400 young athletes."
Jumping
On both Thursday and Friday there was no getting past the speedy Irish rider Marta Hughes-Bravo on the Irish-bred Palomino mare Hhs Mustang Sally. They took first place in the 1.25 time jumping, Prize of Performance Sales International GmbH, and also in the two-phase jumping over 1.25 metres, Prize of Allspan German Horse Vertrieb GmbH & Co. KG.
CSIO-Ch
There was a German victory in the children's competition: Jonna Esser and her Holstein mare Ciance were fastest with a time of 61.16 seconds in the CSIO-Ch1.25 metre time jumping competition, Prize of Performance Sales International GmbH. Poland's Julia Pieta on Clearwater PpZ came second, followed by two other German riders, namely Paula Pahl on Kaischa and Leonie Pander with Cantara. In the two-phase jumping competition on Friday, the cards were reshuffled, with first to third place going to Yoni van Santvoort from the Netherlands with Esprit, ahead of Sweden's Svea Tegnestedt and H.Emeralda and Estelle Gerard and Jedam from Belgium.
CSIO-J
The best round in the two-phase jumping competition for the juniors was achieved by the Dutch U14 European Team Champion Thijmen Vos on the Zweibrück gelding Calgary. The pair only needed 33.94 seconds for the second phase. Runner up was Abdurakhmon Abdullaev (UZB) on Go Four It B ahead of Charles Berthol (FRA) with Cardea.
CSIO-Y
Young riders from Germany dominated the two-phase jumping competition over 1.40 metres and took first to fifth place. The outstanding winner of the competition was the Mannheim winner and U25 Springpokal finalist, Sönke Fallenberg, who took around four seconds off his competitors in phase two. Fallenberg and the Hanoverian Valentino son Vescovino only needed 33.18 seconds. The next four placings were all taken young women: Henrike Ostermann and the Oldenburg Arpeggio son Air Force One finished the course in 37.10 seconds, second place. Third place went to Antonia Ercken on Chaya Lotta with 37.72 seconds, ahead of Antonia Locker with Cristobal. Number five in the group was Maren Hoffmann on the Brandenburg mare Goldquelle.
Four young riders mastered the course in the Prize of the equestrian brand Covalliero on Friday evening without any faults, which once again shows how demanding the competitions are at Future Champions. In the jump-off that followed, Theodor Linde (DEN) on Salto des Nauves HDC managed to clear the course in 48.21 seconds. Antonia Ercken (GER) rode Cool Fox HR without any faults to second place, while Alexander Housen (BEL) achieved the fastest round, but unfortunately ended up in third place with a drop.
CSIO-J
The junior show jumping field showed a very international field today. Sweden's Ebba Danielson dominated twice with a clear and fast jump-off round in 43.57 seconds – almost 4 seconds faster than the second-placed. Austria's and former EY Cup final winner from Salzburg, Elisabeth Klaus, finished second with 47.06 seconds.
Third place went to Anastasia Nielsen from Monaco with an equally fast time of 49.24 seconds. This was followed by the individual rider Abdurakhmon Abdullaev from Uzbekistan with the fastest time of 42.93 seconds, but an unfortunate mistake. Finally, fifth place was secured by Caroline Marc Miartin from France with 43.21 seconds and a four-fault round.
Dressage
CDIO-J
On day one the team competitions were on the agenda and the German riders' results were impressive! Hans Heinrich Meyer zu Strohen's team won the Junior Nations Cup with a score of 148.737 points, beating the teams from Denmark (147.223) and Switzerland (141.061). Riding for Germany were Rose Oatley on Rock Revolution (also second best pair in the individual classification with 74.495%), Jana Lang with Baron and Lucie-Anouk Baumgürtel on Zinq Hugo FH. The best pair in the individual classification was Alexander Yde Helgstrand on Grevens Sa Va with 74.748%. His teammates Annabelle Rehn with Vestersvangs Garson and Frederikke Gram Jacobsen on Ryvangs Zafina placed fourth and fifth respectively in the individual classification.
In the first individual competition of the juniors on Friday, three German riders dominated the podium places. Shona Benner and her mare Brisbane took first place with an impressive total score of 72.696%. Close on her heels was Jana Lang on her veteran gelding Davy Jones with an equally high 72.402%. Individual bronze went to Kenya Schwierking and her mare Cecil with 72.353%. But another flag was also to fly in the dressage stadium for the award ceremony: On Friday evening, Alexander Yde Helgstrand (DEN) and his mare Grevens Sa VA earned the top score in the Highscore Performance Ground Prize, narrowly overtaking Lucie Lucie-Anouk Baumgürtel on Zinq Hugo FH and Jana Lang on Baron.
CDIO-Y
The Nations Cup of the Young Riders also went to the German team, who scored 146.961 points. Denmark again took silver (142.5) ahead of the USA (138.677). As the final competitors, Luca Sophia Collin and Descolari not only secured the team victory, but also delivered the best individual result with 75.294%. Helena Schmitz-Morkramer and DSP Lifestyle came fourth in the individual classification with 71.667%. Elisabeth von Wulffen and Fiesta Bonita received 70.931%.
CDIO-Ch
The German riders in the Children's group also took part in the Nations Cups on day two. They included Clara Paschertz on Danubio OLD, who also produced the best individual result with a proud 81.650%, as well as Lara Lettermann with Soleil de La Coeur H and Martha Raupach in the saddle of Jack Sparrow. Silver went to the team from the Netherlands consisting of Isabelle Saton with Capricho Llll, Sophie van Iwaarden on Hermes Mithras and Fleur Kempenaars with Armano. In bronze were the riders from Belgium.
CDIO P
The dressage pony riders had their first appearance on Friday in the Prize of the Liselott and Klaus Rheinberger Foundation. In this Nations Cup the German team consisting of Antonia Roth, Julie Sofie Schmitz-Heinen and Antonia Busch-Kuffner proved their skills by taking first place as a team. The silver medals were awarded to the team from Denmark: Sophia Boje Obel Jørgensen, Selma Ludvigsen and Cornelia Munch Sinding – closely followed by Esmee Boers, Isa Hollands and Senna Evers from the Netherlands, who took bronze.
For all results visit https://online.equipe.com/de/competitions/41136.
Contact us for more information hd@psi-sporthorses.de