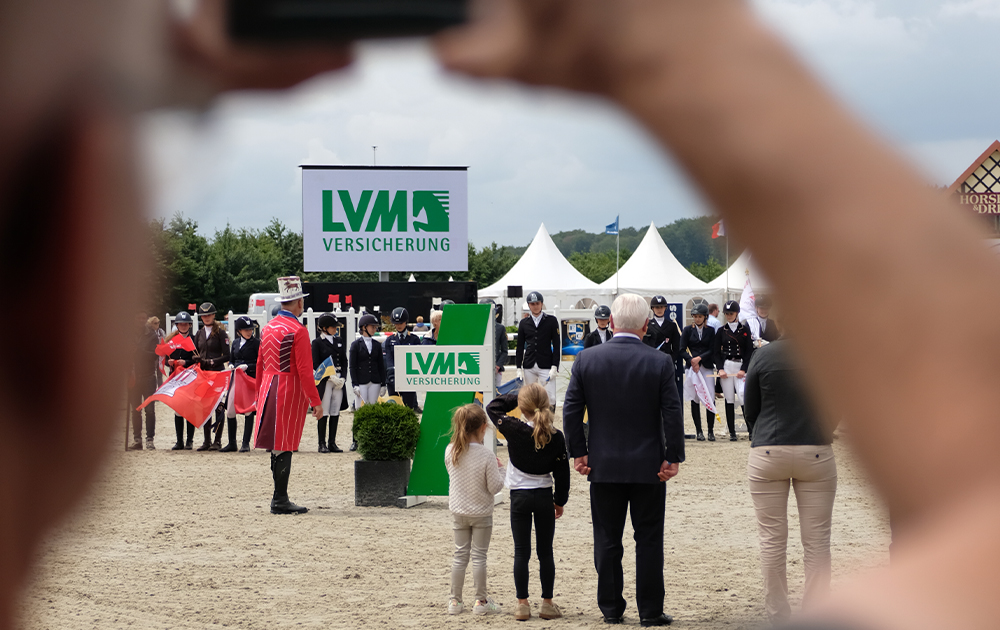 15 Jun

Children give their best at Future Champions!

The international equestrian competitions of the Fédération Equestre Internationale (FEI) start with the Children age group. Here riders between the ages of 12 and 14 can compete for their first Nations' Cup.

Future Champions started this morning with exactly this age group and the German riders made use of their home advantage: The twelve year old Clara Paschertz scored with Belvedere, not only with the team, but also in the individual classification. Lisa Steisslinger with Havanna Negra and Allegra Schmitz-Morkramer and Lavissaro also supported the team with strong results.

In the jumping stadium the first round of the Children's team classification started directly with a neck-and-neck race between France and Germany, as both finished the first round with four points each. The second round was just as exciting: the pressure on the 12 to 14-year-old riders from both countries increased all the more as it ended in a jump-off. Here, the four girls from France, Toscane Carloni Richard, Romane Michelte, Agatha Martin and Lou Champion, led by Chef d´Equipe Olivier Bost, could secure the victory for themselves! "It is the team spirit and my pride in riding for France that drives me to keep going through each round", Agatha Martin grinned after the victory in her first Nations Cup.

In the Almased dressage stadium we continued with the Prize of the Liselott & Klaus Rheinberger Foundation, the CDIOJ Freestyle. Here the Germans prevailed once again. Valentina Pistner won this competition with Flamboyant OLD and improved her success from last year by 3 percentage points (78.51%). Lucie-Anouk Baumgürtel and ZINQ Sweetheart FH ranked second with 77.16%.

At the CDI Pony Freestyle, Prize of Hof Kasselmann GmbH & Co. KG, there was also a neck-and-neck race between the top four finishers who were all only 0.04% apart. In the end, the German pony legend Lucie-Anouk Baumgürtel captured the lead. With her chestnut gelding ZINQ Coriander FH she won with 75.91% and only 0.025% ahead of the second placed Paulina von Wulffen with her Rhineland gelding Dujardin B. Her lead over the third placed, Josephine Gerit Nielsen and Dot Com from Denmark, was again only 0.017%.

On Sunday, the test of the new formats for jumping and dressage riders for Tokyo 2020 will continue in Hagen. In the Young Riders category, the individual medal winners will be chosen in dressage, while the team classification will be decided in jumping. But also juniors, pony leaders and children will face further challenges.